DWELLING
A COMMISSION OF BIG WEST FESTIVAL, PRODUCED BY JESSICA WILSON AND BIG WEST FESTIVAL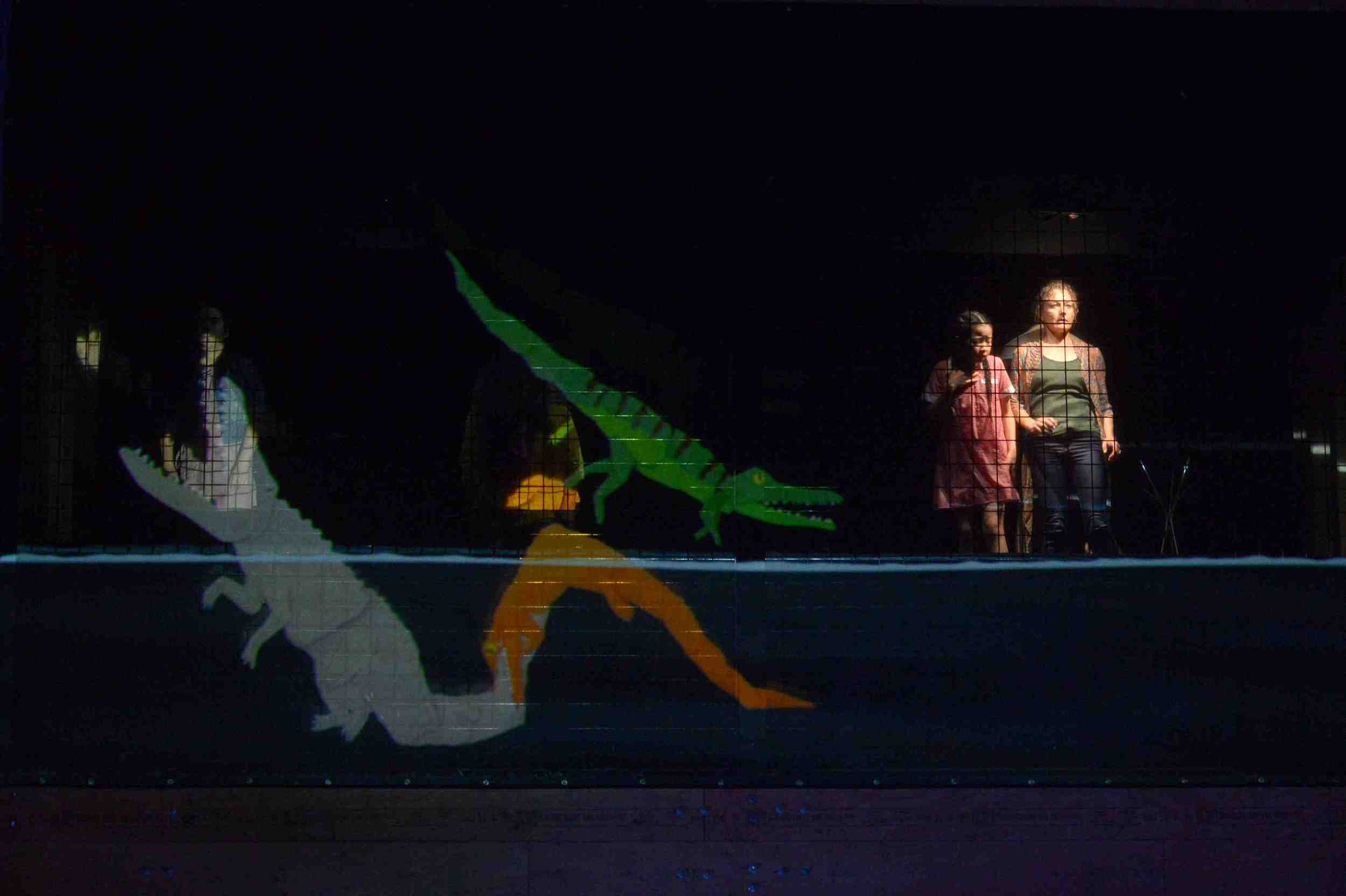 In a rich open-air theatre experience, DWELLING inhabited a custom-built house, temporarily relocated to a Footscray carpark, as the centre piece of Big West Festival's 2015 opening.
A tornado, a rainstorm, crocodiles and insects are harsh Australian elements that inhabited the inside of the house, as we journeyed with three women, and their children, seeking shelter.
DWELLING featured large scale imagery involving the integration of projected stop motion animation and performance, a guitar finale performed by 25 guitarists, performances by a chorus of 20 young people from Carolyn Chisholm Catholic College and shadow performances by women who have genuinely experienced homelessness. This large ensemble sat amidst three stunning performances by professional women performers, Penny Barron, Yana Taylor and Piper Huynh.
DWELLING was an large scale project which cracked a new language of open air theatre and which was grounded by strong thematics about women's experiences of homelessness and violence. The experience was underpinned by the tangible reality of Big West Festival's ambitious social enterprise project – the design and construction of a real house that is planned to be the beginning of social enterprise to provide affordable housing for women. DWELLING was has been nominated for a Green Room Award in the Contemporary Performance category.
DIRECTOR, DEVISOR, PRODUCER: Jessica Wilson
VISUAL DESIGN & DEVISOR: Will Heathcote
ANIMATION & DEVISORS: Van Sowerwine & Isobel Konwles
COMPOSITION: Jethro Woodward
GUITAR FINALE COMPOSITION: Lucas Michailidis
LIGHTING DESIGN: Jen Hector
COSTUME DESIGN: Matilda Woodroofe
PERFORMERS: Piper Huynh, Yana Taylor & Penny Baron with children

Luey Kemp-Mykyta, Flynn Baron-Murphy,

Gabe Havir, Madison Wei Qi Lu

PRODUCTION MANAGEMENT: David Farmer

STAGE MANAGEMENT: Alice Flemming with Christa Jonathan and Emma Louise Legg

photos on this page by Carla Gottgens
This project is part of Big West Festival's NEWEST program which is assisted by the Australian Government through the Australia Council for the Arts, its funding and advisory body. This project is supported by the Victorian Government through Creative Victoria, Gandel Philanthropy, Australian Cultural Fund, Besen Family Foundation and the Angior Family Foundation with creative development support by The Substation.